Bilingual    Teaching by topic    Languages     Latin American and Caribbean resources     Units & Lesson Plans
Teaching about Latin America and the Caribbean by Topic
Art / Architecture
Latin American Art. Encyclopedia Britanica.

Latin American art: an introduction. Smarthistory.

Art and Identity in Mexico, from the Olmec to Modern Times - Yale-New Havens Teachers Institute, 1999, Volume II
This curriculum unit consists of seven volumes that range from Maya and Aztec art and culture to new understandings of the works of Frida Kahlo and Diego Rivera. In every section, hands-on projects play a key role: students can learn to make a work of modern Mexican folk art or play the rudiments of Mesoamerican music. For various grades.
Culture in Art - The Life and Times of Frida Kahlo
Carnival
Culture and Traditions
Day of the Dead / Dia de los Muertos
Economics
Food.
Geography
Hispanic Heritage
History
Latin American Immigration and Migration
Latin American Network Information Center (LANIC) Resources:

Regional Resources
Country Resources
International Resources

International Organization for Migrations (OIM/ IOM)

Más trabajadores migran dentro de Latinoamérica. El Pais, March 2012 (Spanish)
Nuevos caminos de migrantes dan nueva forma a LA. The New York Times, Jan. 14, 2012
Why Do People Move? Migration from Latin America. SPICE Publication, Stanford University
This curriculum unit for middle and high school looks to give students tools to look beyond immediate circumstances and gain insights into the historical process of migration and promote an understanding of the reasons people have for leaving their community or country by presenting studies of six countries in Latin America: Mexico, Dominican Republic, El Salvador, Guatemala, Haiti and Cuba.
Geografía migratoria intrarregional de América Latina y el Caribe al comienzo del siglo XXI. J.Martinez, D. Vono, Revista de Geografía Norte Grande, 34: 39-52 (2005)
Panorama actual de las migraciones en América Latina. Alejandro I. Canales (2006)
Informe sobre Desarrollo Humano 2009 Superando barreras: Movilidad y desarrollo humanos. Publicado para el Programa de las Naciones Unidas para el Desarrollo (PNUD)
Understanding Migration Curriculum Resources for the Classroom. Hemispheres - The International Outreach Consortium at the University of Texas at Austin, Dec. 2011
CLAS Ohio State University Resources for Teaching About Migration:

Organizations
Online Media Resources
Books
Documentaries
Lesson Plans

Latin American Immigration In Editorial Cartoons - Lesson Plan (Free Registration required)
Approaches to Understanding Current US/Mexican Immigration Issues - Kellogg Institute
The City / La Ciudad - PBS (Film) - Lesson Plan
The New Faces (Film) - Lesson Plans
Remaking America: Contemporary U.S. Immigration - Yale-New Haven Teachers Institute
The 11 curriculum units in this volume contain four elements: objectives, teaching strategies, sample lessons and classroom activities, and lists of resources for teachers and students.
Latin America: Our Neighbors at Home and to the South - Lesson plans especially designed to assist fifth-grade instructors in teaching about Latin America, this 10-week topical unit includes lesson plans and activities.
Understanding Migration: Curriculum Resources for the Classroom - Hemispheres: The International Outreach Consortium, University of Texas.
Immigration: Stories of Yesterday and Today(Scholastics) - Encompasses material appropriate for a number of grades. Most activities can be used with students between grades 3 to 8. However, some activities feature content that is appropriate for younger grades.

Immigration Direct. Schools Begin Offering Aid to Undocumented Immigrants: http://www.immigrationdirect.com/blog/2015/03/schools-begin-offering-aid-to-undocumented-immigrants
Music
Politics
Religion
Sports
Urbanism in Latin America and the Caribbean
Spatial Planning in Latin America: https://planninglatinamerica.wordpress.com/tag/social-urbanism/ ; https://planninglatinamerica.wordpress.com/ ;
Overpopulation, overconsumption – in pictures : http://www.theguardian.com/global-development-professionals-network/gallery/2015/apr/01/over-population-over-consumption-in-pictures
New Urbanism around Latin America: https://www.cnu.org/presentations/2007/new-urbanism-latin-america: https://www.cnu.org/sites/www.cnu.org/files/castillo.pdf
Sao Paulo, The Monster City of Latin America: https://www.youtube.com/watch?v=9GBh1Gr1DRc
Brodwyn Fischer on Creating New Narratives: Urban Poverty in Latin America: https://www.youtube.com/watch?v=P8CV3G7YOh4
Urbanization in the Amazon: https://www.youtube.com/watch?v=mqdYcOtVqBE
The Urban Architectural Heritage of Latin America: http://www.icomos.org/en/what-we-do/disseminating-knowledge/publicationall/monographic-series/116-english-categories/resources/publications/232-the-urban-architectural-heritage-of-latin-america
Urban Heritage in South America: http://www.wmf.org/sites/default/files/wmf_publication/SouthAmerConf%202002%20abstract%20ENGLISH_0.pdf
Planes parciales, gestión asociada y mecanismos de distribución equitativa de cargas y beneficios en el sistema urbanístico colombiano. Marco jurídico, conceptos básicos y alternativas de aplicación: http://www.institutodeestudiosurbanos.info/dmdocuments/cendocieu/1_Docencia/Profesores/Maldonado_Maria_Mercedes/Publicados/Planes_Parciales-Maria_Mercedes_Maldonado.pdf
Latinoamérica: países abiertos, ciudades cerradas: http://www.unesco.org/most/ciudad_book.htm
Instituto Latinoamericano de Urbanismo Sustentable – ILAUS: https://www.linkedin.com/company/instituto-latinoamericano-de-urbanismo-sustentable---ilaus
La ciudad construida. Urbanismo en América Latina: http://works.bepress.com/fernando_carrion/108/ ; http://works.bepress.com/cgi/viewcontent.cgi?article=1107&context=fernando_carrion

Informal Urbanism in Latin America: http://www.umabroad.umn.edu/programs/americas/informal-urbanism/about

Latin America's New Superstar: How Gritty, Crime-Ridden Medellín Became a Model for 21st-Century Urbanism: http://nextcity.org/features/view/medellins-eternal-spring-social-urbanism-transforms-latin-america

Productivity in Latin America. City limits :http://www.economist.com/node/21525915
Urbanization and the evolution of cities across 10,000 years – Kite: http://ed.ted.com/lessons/urbanization-and-the-future-of-cities-vance-kite
Out My Window: http://outmywindow.nfb.ca/#/outmywindow
Stress and the city: Urban decay:http://www.nature.com/news/stress-and-the-city-urban-decay-1.115
Building globally competitive cities: The key to Latin American growth: http://www.mckinsey.com/insights/urbanization/building_competitive_cities_key_to_latin_american_growth
Mapping Global Urbanization: http://www.nationalgeographic.com/geobee/study-corner/activity-15/
Urbanization in Latin America:http://www.atlanticcouncil.org/publications/articles/urbanization-in-latin-america
'Latino Urbanism' influences a Los Angeles in flux: http://www.latimes.com/entertainment/arts/la-et-cm-latino-immigration-architecture-20141206-story.html#page=1
South American cities: Securing an Urban Future: http://lsecities.net/publications/conference-newspapers/south-american-cities-securing-an-urban-future/
South America: urban life in South America: http://www.britannica.com/EBchecked/topic/555844/South-America/images-videos/121123/south-america-urban-life-in-south-america

A tale of three cities: Urban renovation in Latin America :http://www.iadb.org/en/news/webstories/2009-06-11/a-tale-of-three-cities-urban-renovation-in-latin-america,5459.html

Plan Malden Square: http://www.cityofmalden.org/content/plan-malden-square

The South America Project (SAP): http://www.sap-network.org/

Red State, Blue City: How the Urban-Rural Divide Is Splitting America: http://www.theatlantic.com/politics/archive/2012/11/red-state-blue-city-how-the-urban-rural-divide-is-splitting-america/265686/

Espacio urbano y riesgo de desastres: la expansión de las urbanizaciones cerradas sobre áreas inundablesde Tigre (Argentina)

Mobility in Medellín:  Urban Transformation through Imagination, Collaboration, and Strategic Intervention: http://www.bartlett.ucl.ac.uk/dpu/publications/dpu/latest/publications/newsletters/55.pdf
Q'ANJOB'AL
Q'anjob'al in the Classroom: What K-12 educators might learn from Linguists. Ryan K. Shosted, University of Illinois at Urbana-Champaign
Q'anjob'al Language Documentation. Ryan K. Shosted, Korinta Maldonado, University of Illinois; Jill Hallett, Northeastern Illinois University

Juan, Andrés Mateo and Hallett, J. 2009. Tzib' yul ko Q'anjob'al [Let's write in Q'anjob'al](alphabet book).

Tzib' yul ko Q'anjob'al [Let's write in Q'anjob'al] (alphabet poster)

Q'anjob'al Vocabulary (partial Swadesh list)

Some additional resources for school teachers

Naq' Unin Ilom Kalnel [The Boy Who Watches Sheep]

Tzet Yok A B'i? [What's your name?

Resources on the Q'anjob'al Language. Ryan K. Shosted, University of Illinois at Urbana-Champaign

How can I study Q'anjob'al? Ryan K. Shosted, University of Illinois at Urbana-Champaign.
 

Directional Markers in Q'anjob'al : Thir Syntax and Meaning. Berkeley Linguistic Society and the Linguistic Society of America.

El conejo y la coyota, un cuento kanjobal de Santa Eulalia, Huehuetenango, Guatemala. Tlalocan, Revistas UNAM. Download
QUECHUA
CUENTO QUECHUA.indd - Museo Raimond

La fábula quechua - Sobre este Libro
---
---
3rd GRADE
Guatemala
Peru

Couriers in the Inca Empire: Getting Your Message Across - This lesson will show how the Inca communicated across the vast stretches of their mountain realm, the largest empire of the pre-industrial world. It will explain how couriers carried messages along mountain-ridge roads, up and down stone steps, and over chasm-spanning footbridges. Couriers could pass a message from Quito to Cuzco in 10 days, about the same time as it takes today's modern postal service to deliver a letter between those two cities. For grades 3-5.
5th GRADE
6-8 GRADE
9-12 GRADE
Culture in Art - The Life and Times of Frida Kahlo
Explore how cultural aspects of our lives are depicted in society. Identify the cultural elements Frida Kahlo referenced in her work.
Latin American Lesson Plans
Latin American Immigration & Migration
Latin American Cities/ Urbanism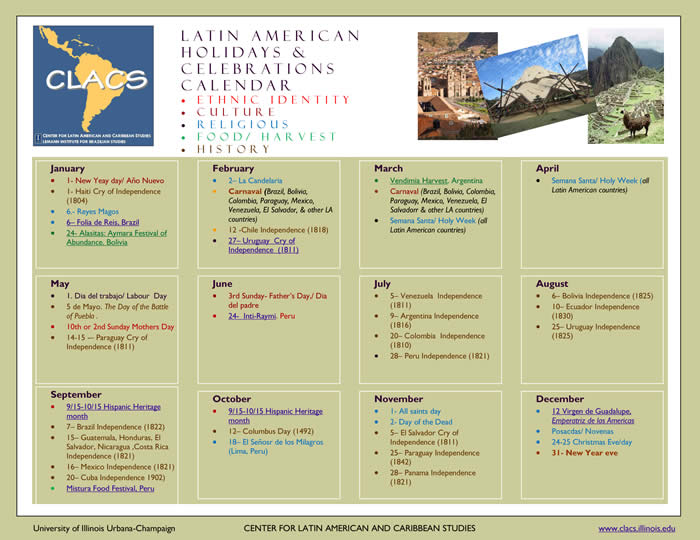 Do your students want to know how Day of the Dead is celebrated in Latin America? Or how was the Inca Empire organized? Or perhaps what are CARICOM, NAFTA, ALCA or MERCOSUR and their impact in Latin America? These and many other questions are some of the possible topics of our Speakers Bureau program, funded by the U.S. Department of Education.

CLACS provides presentations for classroom and the community, by U of I faculty and graduate students to share their expertise on Latin America and the Caribbean. This service is free of charge. We serve Champaign, Vermillion, Douglas, Piatt, Ford and Iroquois counties.

You may contact us about our K-14 / community presentations on the topic you need or view a list of regions and possible topics below. To place a request, simply fill out a request form or contact clacs@illinois.edu.
---
Travel Abroad for Teachers
GEEO - Travel Programs for Educators
We Help Teachers Explore the World!
"I will talk about these trips all year in my classes. For so many of my students, my description of my travels will be the only exposure they will have to other countries and other ways of life."- Social studies teacher Michael Baldwin, who's first time traveling abroad was with GEEO.

Education is at the heart of our society and teachers with greater global perspectives provide richer experiences for those they lead in the classroom. Founded in 2007, Global Exploration for Educators Organization (GEEO) is a 501c3 non-profit organization that has sent over 2000 teachers abroad on adventurous travel programs. GEEO's trips are 7 to 23 days in length and are designed and discounted to be interesting and affordable for teachers. The trips are open to all nationalities of K-12 and university educators, administrators, retired educators, as well as educators' guests.
Please take a look around our website to find out more about us and our programs. For a compact list of all of our programs and their dates, please click here.
Throughout August we will be updating this website. Our 2018 programs will be announced on our website and listserv on September 1st
---
International Education Resources