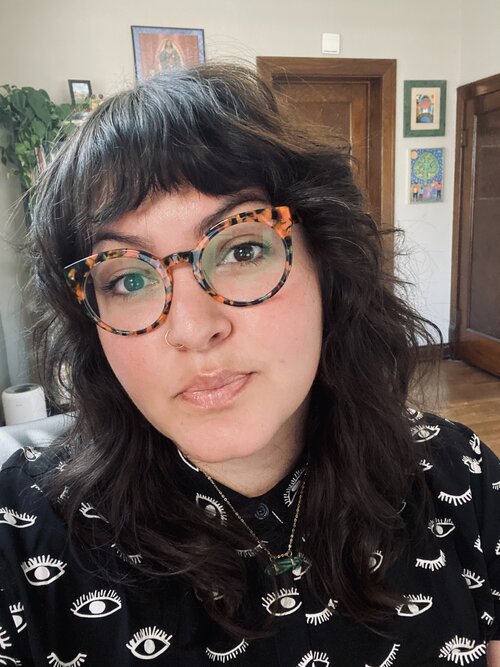 Office Hours
Fall 2021: T/Th 11:30 AM - 1 PM
Assistant Professor | Gender and Women's Studies
Biography
Emma Velez received her Ph.D. in Philosophy and Women's, Gender, and Sexuality Studies from Penn State. She is currently an Assistant Professor of Gender and Women's Studies and affiliate faculty in Latina/Latino Studies, the Center for Latin American & Caribbean Studies, and the Unit for Criticism and Interpretative Theory at the University of Illinois, Urbana-Champaign.
Her research interests include U.S. Latina and Latinx feminisms, Latin American decolonial theory, critical theory, feminist theory, and critical philosophy of race. Her work stages dialogues across disciplines and traditions in order to consider Latina and Latinx feminist contributions to decolonial theory as well as questions of identity, cross-cultural communication, and political marginalization particularly as they intersect with issues of race, gender, and sexuality.
Velez has published her work in The Journal of Speculative Philosophy and has co-edited special issues on the topic of decolonial feminisms in Hypatia and Critical Philosophy of Race. She is also currently working on a book project tentatively titled, Orienting Historias: Unraveling the Coloniality of Gender through Las Tres Madres.
Research Interests
Latina and Latinx Feminisms
Latin American and Latinx Decolonial Theory
Latin American and Latinx Philosophy
Critical Philosophy of Race
Continental Philosophy (esp. critical phenomenology)
Education
Philosophy and Women's, Gender, and Sexuality Studies, Ph.D., Pennsylvania State University
Philosophy, M.A., Suny at Stony Brook
B.A., Philosophy and Political Science, Oklahoma City University
Courses Taught
GWS 395/LLS 396 Latinx Feminisms (Fall 2021)
GWS 550 Feminist Theories & Methods (Fall 2021)
GWS 498 Senior Seminar (Spring 2022)
GWS 100 Introduction to Gender & Women's Studies (Spring 2022)
Additional Campus Affiliations
Center for Latin American & Caribbean Studies
Latina/Latino Studies
Unit for Criticism and Interpretive Theory
External Links
Recent Publications
Tuana, N., & Velez, E. D. (Eds.) (2020). Toward Decolonial Feminisms. Critical Philosophy of Race, 8 (8-1). https://www.jstor.org/stable/10.5325/critphilrace.8.1-2.issue-1-2
Velez, E., & Tuana, N. (2020). Editors' Introduction: Tango Dancing with María Lugones. Critical Philosophy of Race, 8 (1-2), 1-24. https://doi.org/10.5325/critphilrace.8.1-2.0001
Velez, E. D. (2020). Toward a "Care-ful Geopolitics" of La Frontera in the Era of Trump. Journal of Speculative Philosophy, 34 (3), 339-352. https://doi.org/10.5325/jspecphil.34.3.0339
Velez, E. D., & Tuana, N. (2020). Toward Decolonial Feminisms: Tracing the Lineages of Decolonial Thinking through Latin American/Latinx Feminist Philosophy. Hypatia, 35 (3), 366-372. https://doi.org/10.1017/hyp.2020.26
Velez, E. D. (2019). Decolonial feminism at the intersection: A critical reflection on the relationship between decolonial feminism and intersectionality. Journal of Speculative Philosophy, 33 (3), 390-406. https://doi.org/10.5325/jspecphil.33.3.0390
View all publications on Illinois Experts